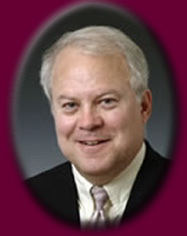 Dr. John Henry Purk, married with seven children, is a Professor of Dentistry at the University of Missouri-Kansas City and maintains a private dental practice.
An ardent Catholic Apologist, John co-hosts alongside a Protestant Minister and a Jewish Rabbi on a live call in Sunday morning show called "Religion on the Line." John's conservative faith is an entertaining juxtaposition to the more liberal views of his fellow co-hosts.
Additionally, he hosts "Communio" a radio program for the Diocese of Kansas City-St Joseph.
With his wife Patty, they prepare engaged couples for marriage, and he produces a family Scripture Rosary DVD and maintains a website called www.Scripturerosary.com.